日本を代表するスラッシュ・メタル・バンド、UNITEDの2018年7月にリリースされた10枚目のアルバム、「ABSURDITY」が、
いよいよ9月27日、ドイツのREAPER ENTERTAINMENTよりボーナス・トラック2曲(Live)を追加収録して発売されます。
すでに海外のファンからの評価も高いこのアルバムを引っ提げて、彼等の更なる快進撃が続きます。
引き続きバンドの応援をよろしくお願いいたします!
UNITED comment :
We are very excited our new album will be released in Europe from Reaper Entertainment!
And we're already got many good reaction from huge European fans through Youtube!
Have you ever seen our new video clip "Arise"?
Check it out!!
We really hope more thrashers listen to this album.
And we always waiting for the great message from many worldwide thrashers!!
Stay Thrash Metal ! UNITED from Japan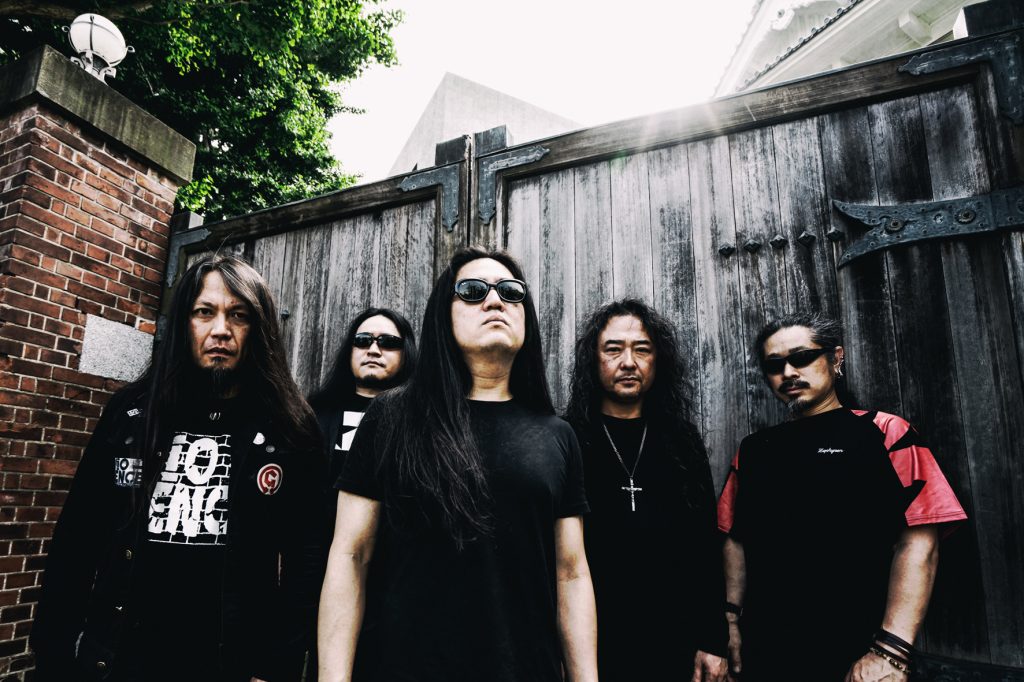 The biggest Thrash-Metal-Band from Japan
UNITED was formed in 1981, named after a song from the album "British Steel" by none other than the Metal Gods -JUDAS PRIEST. They were originally a cover band playing songs of JUDAS PRIEST and BLACK SABBATH, but when YOKO (b) joined the band in 1983 they soon began to write their original material.
It was in 1985 when their 1st EP "Destroy Metal" was released, followed by the 2nd EP "Beast Dominate" in December 1986. With the worldwide Thrash Metal movement, UNITED was gaining popularity and so it happened that they released their 1st full length album "BLOODY BUT UNBOWED" in 1990, as the first-everrelease on Howling Bull Records.
In 1995 they signed a management deal with Rick Sales (SLAYER). Meanwhile they were continuously playing gigs, sharing the stage with SLAYER, EXODUS, SODOM, MACHINE HEAD, THE EXPLOITED etc…
On their way to the top and with continuously growing success the band also managed to get the world's renowned producer/engineer Vincent Wojno (MACHINE HEAD, TESTAMENT, etc.), to work with UNITED up to their 6th album "Infectious Hazard" (2001).
This album, on which Vincent Wojno & Andy Sneep (EXODUS, TESTAMENT, ARCH ENEMY, etc.) worked behind the board, was full of speed and intensity as a good Thrash record should be and the band members refer to the album as their masterpiece still to this day.
Performing repeatedly at the biggest Metal festivals in Japan such as "BEAST FEAST" and "LOUD PARK", where bands such as SLAYER, PANTERA etc. headlined, UNITED also toured with bands as THE HAUNTED and THE BLACK DAHLIA MURDER.
In 2011, the year of their 30th anniversary, UNITED released their 9th album "Tear Of Illusions" on SPIRITUAL BEAST.
However, on May 13, 2014 UNITED suffers a great misfortune when the bands leader and bassist YOKO (49 years old) suddenly passes away. The remaining members thought about the existence of the band and even their own musical activities, but continued the live activities playing also at "LOUD PARK" again in 2015.
Finally releasing "Absurdity" as the 10th album in the history of the band UNITED sees this one as a true miracle revival album and now joining forces with REAPER ENTERTAINMENT EUROPE "Absurdity" will be re-launched all over Europe under license of SPIRITUAL BEAST on 27.09.2019!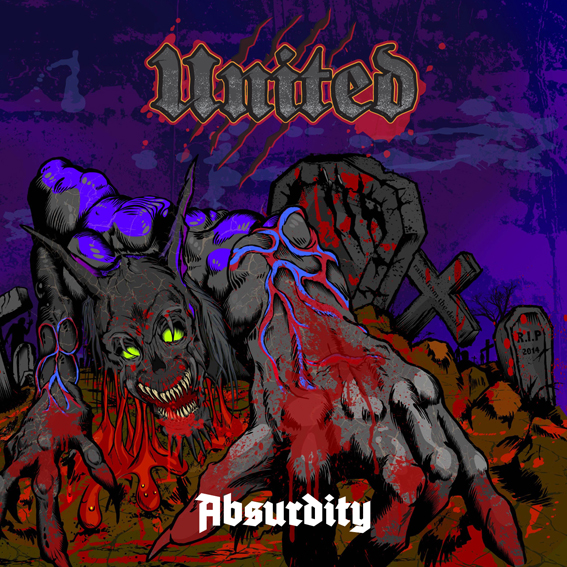 Out: 27.09.2019
https://www.reapermusic.de/
CD (Jewelcase): REAPER 017 – 4046661631029 – Pricecode: C13
Pre Oder: http://www.reapermusic.de/united-absurdity
Track List:
01. Absurdity
02. Settle My War
03. Arise
04. Trapped Fake World
05. Dead by Dawn
06. Don't Ever Let Me Down
07. May (feat. ANZA from Head Phones President)
08. Alive
09. Empty Eyes
10. Fabricated The Justice
Europe Bonus Tracks:
12. Alive (Live)
13. Trapped Fake World (Live)
Produced by Fuyuhiko Inui and United
Executive Producer by Akira Sugiuchi
Mixed by Fuyuhiko Inui
Mastered by Takahiro Hashimoto (Galaxy Blast Mastering)
Artwork by Marrrchan
Line-Up (L-R):
Masatoshi Yuasa (Vocals)
George Enda (Bass)
Akira (Drums)
Shingo Otani (Guitars)
Yoshihumi "Hally" Yoshida (Guitars)
Discography:
1985 Destroy Metal (EP)
1986 Beast Dominate (EP)
1990 Bloody But Unbowed
1992 Beast Dominate '92 (MCD)
Human Zoo
1995 N.O.I.Q
Best Rare Tracks From Underground (Best)
1997 Reload
Burst (MCD)
1998 Distorted Vision
2001 Infectious Hazard
2002 Core
2005 Nine
2011 Tear Of Illusions
30th Anniversary Complete Box
2012 Scars Of The Wasted Years (Best)
2018 Absurdity
Websites:
http://www.united-official.com/
https://www.facebook.com/united.japan/
尚、SPIRITUAL BEAST ONLINE SHOPでもヨーロッパ盤を販売いたします。
詳細は予約開始日決定後にお知らせさせていただきます。