ジャパニーズ・スラッシュ・メタル・バンド SACRIFICEが、2020年1月のNYC公演以来となる日本での再結成ライヴを遂に下記の日程で行います。
実に日本では31年振りとなるSACRIFICEの復活公演、是非お楽しみに!!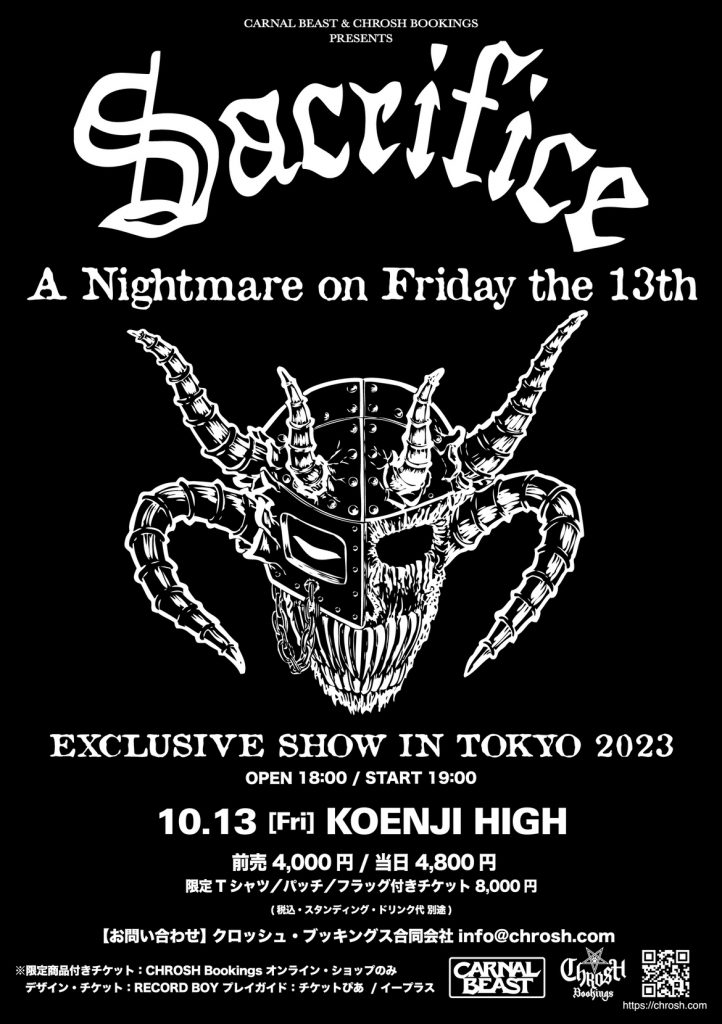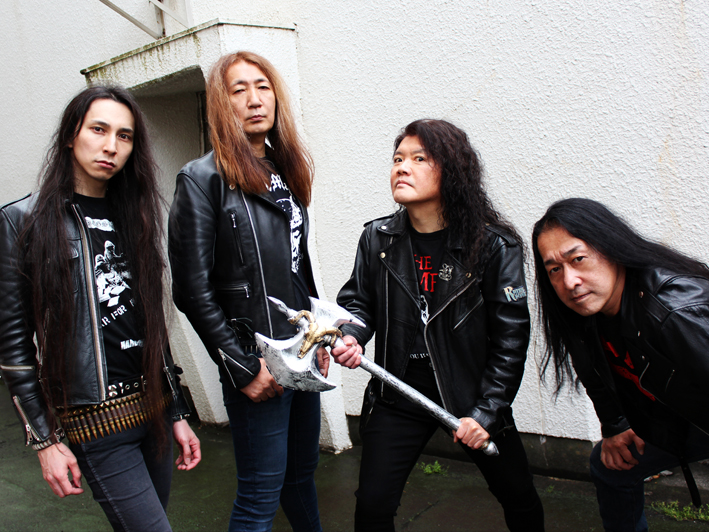 チケット情報は下記の通りです。
CHROSH BOOKINGS
2023年10月13日(金)
OPEN 18:00/START 19:00
チケット:
◉前売1日券 4,000円
(税込・スタンディング・ドリンク代 別途)
◉個数限定!
Tシャツ/パッチ/フラッグ付きチケット 8,000円
(税込・スタンディング・ドリンク代 別途)
※セット販売は、CHROSH Bookingsオフィシャル・ショップのみで販売。
6月28日21時より予約開始
https://chrosh.theshop.jp
【取り扱い店舗】
=デザイン・チケット=
・高円寺RECORD BOY店頭
=プレイガイド=
<チケットぴあ>
Pコード:251913
https://t.pia.jp/pia/event/event.do?eventCd=2332344
<イープラス>
https://eplus.jp/sf/detail/3944250001
Two types of tickets:
Normal tickets (price:4000-JPY)
T-shirt, patch and flag set tickets (price:8000-JPY)
T-shirt BODY: GILDAN Ultra Cotton 6.0 oz Short Sleeve T-Shirt (S to 2XL)
To all Headbangers in Overseas who are willing to purchase our tickets
Here is the information of how to purchase tickets for the coming our event.
Please follow the instructions below;
Drop your information to info@chrosh.com including the following information. Your ticket(s) will be reserved after you have received the confirmation email.
-Full Name
-Email address
-Phone number
-Purchasing ticket date(s)
-T-shirt size
Please purchase your reserved ticket(s) at the venue. You will need your ID(ex.Passport) to purchase the ticket(s) and the payment must be paid by cash ONLY.
If you have any questions, please do not hesitate to contact us.